"
O Canada! Our home and native land!
" sing Canadians, obviously.
A charming semi-detached conversion with countless bedrooms, full central heating and living space aplenty, although the neighbours are a pain in the arse. Canada is the second largest country in the world after Russia, despite having only half the population of Britain. I've heard Canada has warm underground shopping malls where locals are free to shop far away from Moose (Mooses?), free to say '
Aboot
' instead of 'About', and free to drink Molsen whilst wearing big fluffy hats that cover their ears.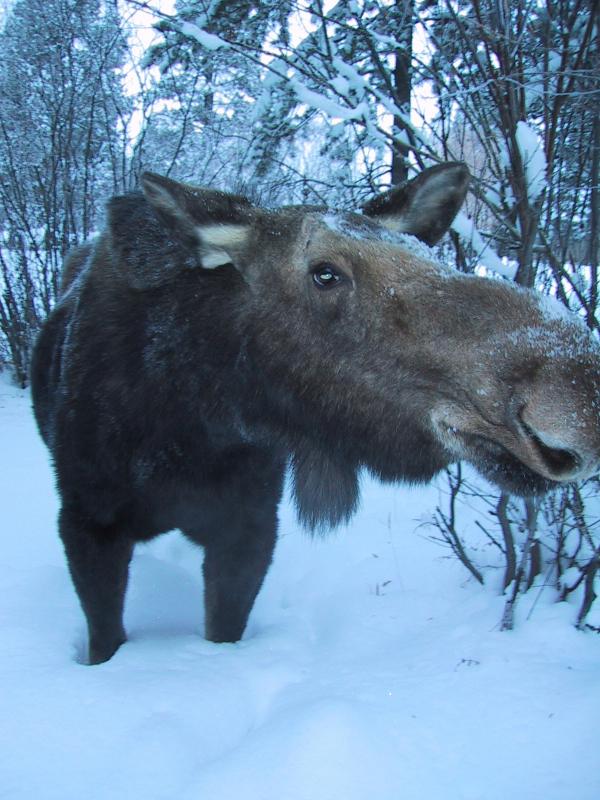 Canada seems blessed (?) with a large Scottish community, or at least has many citizens of Scottish descent, which has always puzzled me. Why, after all, go to all the trouble of leaving your cold, snowy homeland to emigrate somewhere colder and snowier?
But I digress.
I've only ever met two Canadians in the flesh, even if my second cousin (once removed) lives there (We've never met). The first Canuck I met was a guy with an American accent so I asked him where in the States he came from.
He told me to Fuck off.
The second was a lovely young lady called Roxanne. I met her on the last refuge of the desperate and shagless (a dating website) where I saw her picture and wondered what the hell she was doing on there. Roxanne was, and probably still is, stunning. Just my type; curvateous and pretty, with long dirty blonde locks that screamed - if hair could scream -
Ooh, look at me!! I'm sexy and rebellious, and on top of someone feminine and cute
.
I was smitten.
And I nearly had an aneurysm. When I checked out her profile and she returned the compliment and looked at mine, I fell into a deep coma. When I regained consciousness to write to her only to discover she'd written back, I went into cardiac arrest.
I had contracted bubonic plague (you get the idea) once we'd exchanged emails and phone numbers, and we soon arranged to meet. It was around this time that I expected everything to collapse into the usual pile of shit that occurs when you add a pipette of ME to a jug of LADY, but as the clock ticked inexorably toward that memorable first meeting, I had been changing. People at work noticed the corners of my mouth pointing upwards. Someone claimed to have heard me laugh. Others questioned why I'd ran into Russell Square chasing pigeons and frolicking in the fountain.
It was, ironically, Friday 13th, not quite three years ago from today. I'd got to the pub we'd arranged to meet in early enough to have a nerve-steadying drink and establish myself. I took a paper and waited. Ten minutes later, in walked an anxious, beautiful, eye-catching Roxanne. She looked slightly nervous which was great as I had by now become cool, calm, and devilishly witty. Once we got a table, the conversation never let up. We flirted. We played with our (own) hair. We stared at each other with wide eyes. Then she presented me with a rare vinyl 12" from those halcyon days of rave as I had, for some reason, mentioned losing my copy years earlier. I was over-awed. No-one had done anything like that for me before, and it was all being done by this quite beautiful, excitable (busty) woman. She even admitted that she had paid up for the full website functions because she'd seen that I'd written to her and she wanted to reply.
This really doesn't happen to me, ever.
As I walked her back to the tube, I was so happy that I didn't immediately look at a flyer that some guy handed to me until long after he'd disappeared. When I did glance down at the piece of paper in my hand, it read: 'KEEP BRITAIN WHITE.' I still thank the Lord that I didn't look at it while he was still there as I would've ruined the date with a string of expletives and possibly a fight (he was a small man).
I told everyone about Roxanne, including my Asian newsagent, a bus driver, the man who hangs around schoolyards, the surly guys who collect our rubbish.
A couple of days later, we went to the Natural History Museum, which I was told is the kind of thing you're supposed to do on dates (Museums across the world must be full to bursting with the newly acquainted.) But something had shifted. As Roxanne grew in confidence and volume, I began my slow, quiet retreat into myself, letting all that Awe mute me. Perhaps this was in part to Roxanne's quizzing me on what I did the day before.
Because the day before had been St Valentine's.
Something else that never happens to me, ever, is
Two Dates At Once
. I really liked Kat. Kat is a friend of a friend who I always found rather cute and had always wondered if she felt the same about me. So naturally, I did nothing to check. Until said mutual friend asked if I'd like to hook up with Kat.
So we did.
At exactly the same time I had just met the woman I would gladly die for. Or at least gladly get hurt a bit for.
Kat and I had a very pleasant meal in a Greek restaurant. I tried to be daring and ordered something that wasn't chicken-based, and ended up with a dish that was obstensibly nothing more than baked beans on a plate. And when I got back to hers, Kat gave me a blow-job that for some reason wasn't fulfilled (meaning I walked back to my flat like John Wayne.)
Perhaps I didn't reach the money shot as I ended up telling Kat that I'd uncharacteristically met someone who I really liked, and that was that. Roxanne was greatly amused when I told her this story (minus the oral sex) as she too admitted that she'd been on a date.
Oh goody. Still, this was a vastly more superior St Valentine's Day to the one I'd had
two years earlier
.
Can you guess where this is going???
Roxanne and I had a couple more dates. She was now running the show while I stood there and trembled. When one evening was at an end, she'd asked coyly if she could come back to mine after she'd returned from a spell in Iceland.
'Erm, yes, yes you can.'
I'd reached in for a goodbye kiss on her cheek as I still lacked confidence to advance to mouth. She went for my lips and I ended up kissing her eye.
So I went home. I tore down my curtains and put them in the washing machine, along with my crusty duvet, the mattress, and the rest of the bed. I removed everything from my room, hoovered and fumigated the bare space, and put everything back again. Then I went to a work conference in Birmingham, fucking
Birmingham
.
I was on the train back to Euston that evening, awaiting notification of where and when I was to meet my newfound Canadian love of my life. My phone pinged as a text had arrived. I read the message:
'I can't see you again. I'm sorry.'
'Is that Roxanne?' said my excitable work colleague next to me.
'Yeah.'
'And?'
'Meeting her later,' I lied, and pretended to go to sleep as annoyingly my eyes were now getting rather watery.
So that's Canada ~
Pros: Diverse. Exciting. Seems like
fun
.
Cons: Populated by evil cows. And my cousin Gary. Oh, and
Fille
, who'll probably want an honourable mention.