Russia is a vast land with a long and fascinating history. A history of boredom, drunken thuggery, random violence, and snow. This history can be effectively re-enacted if you were to drink two bottles of vodka, stand naked in the cold, and attempt to kill the first person who crosses your path. Congratulations. You are now
Russia.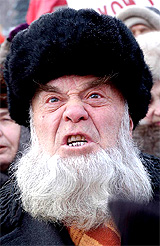 Mr Hot Russian Teen 2006
The Russians took to revolution when a local man called
Vladimir
sobered up enough to focus on the word 'overthrow' in a discarded copy of
The Communist Manifesto
, and saw this as a particularly good opportunity for a fight. A few punch-ups later, and Vlad found himself in charge of a country 8 million square miles in area, with the power of death or more death of 200 million murdererous drunks.
Miss Hot Russian Teen 2006
Russians are particularly fond of smoking, vodka, throwing Jews through windows, and rape. Although their mafia have extended throughout Eastern Europe and beyond, the whole country is essentially Mafiosi; from the old women extorting money from tourists or else they'll bind them with piano wire and throw them into the freezing Volga, to the choirboys who have been known to sexually abuse priests in return for sweets, most Russians would murder their own grandmother for the opportunity to murder their parents. Even the police are essentially a uniformed crime syndicate.
Their royal family, the Romanovs, or more accurately, the Holstein-Gottorp-Romanovs, were murdered around 1917 for being rich and privileged. Although I'd dispute privileged, as the Romanovs suffered from
haemophilia
(interestingly once known as the
Royal Disease
due to its prominence in European royalty), being friends of drunk, unkillable, sex mad
Monks
, and ancestors to Britain's favourite
sensitive and caring
jug-eared octogenarian, Prince Philip.
A Russian party animal, aged 16.
As for the rest of society today, the population is declining rapidly as the murder rate finally overtakes the birth rate. Interestingly, Russians have only 7 facial muscles, which explains why they never smile. And Aeroflot is now the World's safest airline. This is because the last of their planes has crashed.
Russia
Cons: Very cold.
Pros: Only Russians live there.